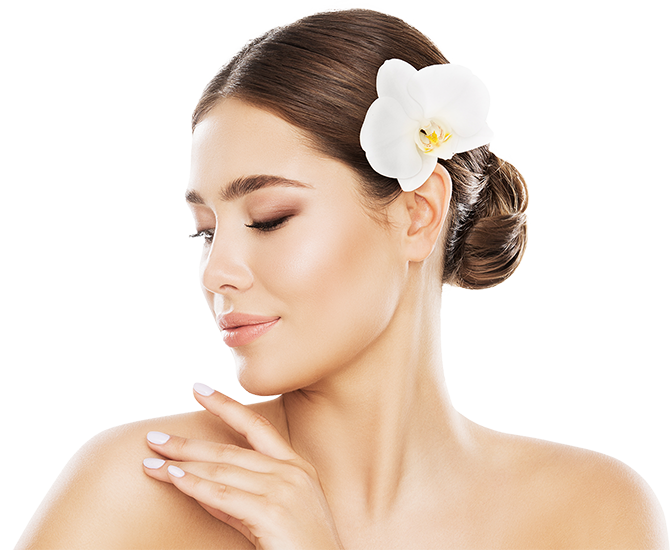 Dots
Breast Augmentation
Breast augmentation, also referred to as breast enlargement or bust augmentation, improves the fullness, balance and shape of your figure with the use of breast implants. Detroit Plastic Surgery are experts in breast augmentation with their office serving southeast Michigan and the Midwest.
Dots
Breast Lift
A breast lift raises, firms and reshapes the breasts. With so many cosmetic surgery options available on the breast, your Detroit Plastic Surgery Plastic surgeon will take the time to explain your specific path and an option that is right for you. Make sure you see the Breast Lift Before and After pics. Ask about Breast Lift Surgery Cost.
Dots
Breast Reconstruction
Breast reconstruction surgery is an option that can help improve a breast cancer survivor's confidence and sense of wholeness after undergoing a mastectomy. Your Detroit Plastic Surgery plastic surgeon will develop a specific solution to your needs.
Dots
Female Breast Reduction
A breast reduction surgery reduces the size and weight of the breasts, relieving a woman from pain and discomfort, correcting or preventing further problems and allowing her to enjoy activities that she might have otherwise not been able to because of her breast size.
Dots
Male Breast Reduction
Male breast reduction surgery reshapes the chest, relieving the pain and discomfort caused by enlarged breasts.
Dots
Body Contouring
Surgical body contouring following major weight loss removes excess sagging fat and skin while improving the shape of the underlying support tissue.
Dots
Body Lift
A body lift improves the shape and tone of the underlying tissue that supports fat and skin.
Dots
BRAZILIAN BUTT LIFT/AUGMENTATION
Buttock augmentation surgery sometimes referred to as a Brazilian butt lift when the fat transfer is involved.
Dots
Buttocks Lift
A buttocks lift, often referred to as simply a butt lift, tightens, reshapes and tones the loose and sagging skin in the buttocks, posterior thighs, hips, outer thighs and anterior thighs for a more youthful, balanced appearance.
Dots
CoolSculpting
CoolSculpting® is an FDA approved, non-surgical, non-invasive procedure that can reduce body fat by 20 to 40% with no pain and no downtime.
Dots
Cellfina
Cellfina ™ is the only FDA-cleared minimally invasive, one-time procedure clinically proven to improve the appearance of cellulite for at least two years
Dots
Cellulite Removal
VASERsmooth™ is able to treat cellulite by breaking down (via ultrasounds) the structures that cause the unevenness on the surface of the skin as well as contour irregularities.
Dots
Diva LASER VAGINAL TIGHTENING
After childbirth, women may notice that the vaginal canal and surrounding tissue has been stretched. The Diva will improve the quality of the vaginal tissue.
Dots
Fat Transfer
A renewed clinical interest in fat grafting for both reconstructive and aesthetic purposes has prompted plastic surgeons and other medical practitioners.
Dots
Labiaplasty
Labiaplasty sometimes referred to as labia reduction, is a surgical solution that reduces the size and length of the labia so that the inner lips don't protrude past the outer lips.
Dots
Liposuction
Liposuction is a surgical procedure, commonly referred to as cosmetic or plastic surgery, that can give you the body size and shape you want by removing stubborn fat from your problem areas.
Dots
UltraShape
UltraShape a non-invasive body-shaping procedure that uses focused pulsed ultrasound for selective fat cell destruction.
Dots
Tummy Tuck
An abdominoplasty, more commonly referred to as a tummy tuck, is a surgical procedure that removes excess fat and skin, restoring weakened stomach muscles and revealing a smoother, firmer abdomen.
Dots
VASERlipo
VASERlipo™ is a minimally invasive liposuction treatment that uses ultrasound technology to remove stored fat when diet and exercise alone don't yield the results you want.
Dots
VASERshape
VASERshape™ is a non-surgical option for smoothing the appearance of cellulite.
Dots
VelaShape Cellulite Treatment
VelaShape™ is an FDA approved, non-invasive treatment proven to smooth the appearance of cellulite.
Dots
Arm Lift
Brachioplasty, more commonly referred to as an arm lift or upper arm reduction, reduces and removes excess skin and fat from the upper arm while reshaping and toning for a smoother, tighter and more youthful appearance.
Dots
Thigh Lift
A thigh lift is a surgical procedure that refines the overall shape of the thighs by reducing excess skin and sometimes fat.
Dots
Hand Surgery
This type of very specialized surgery can treat diseases that cause pain and impair the strength, function, and flexibility of your wrist and fingers.